Characteristics of the aerial photo equipment
The equipment has 3 parts: - Zeppelin - Bracket for camera manufactured on carbon fiber, mini camera and tv transmitter - Radio emitter, receiver and tft monitor - Radio emitter and high line glases with receiver integrated - Metal-clad suitcase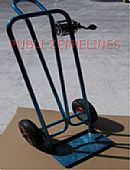 ZEPPELIN:

Publi-zeppelines offers a wide range of differents colors and sizes of zeppelines able for aerial photography. The zeppelines most commonly used are those of 3.5, 4 and 4.5 m of lightweight materials.

- Body of Polyurethane's inflatable zeppelin.
- 200 m of rope or fishline, kit of repair and hose of inflated.
- Reel of the trolley to give up and to gather the zeppelin
- Support of steel for the reel and the subordination of the zeppelin in the work camp.
- Color of the body and fins to choosing of between the most ample range.



BRACKET FOR CAMERA: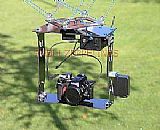 - Bracket for the camera entirely made in carbon fiber o aluminium fiber with pieces manufactured in aluminum and the screws made of titanium. The bracket has been designed to install on it any kind of photo camera, wether digital, 35mm or medium format ones.

- Tv transmitter equipment installed on the support operates in the radio frequency of the micro waves.

- TV camera: high resolution with color.

- Servomechanism with 4 channels to move camera up and down 100º, left and right 360º and shooting of camera. One channel is reserved for the zoom (radio control of zoom is offered as an option).

- PCM 4 channels Futaba radio.

- Automatic loader of batteries.

- When using a digital camera you can use its video exit so you could have exactly the same photo frame. Besides, you will have info about speed, diaphragm, number of photos, etc...

- A system of suspension Picavet with pulleys will support always the support of the camera in horizontal, like that position the photographies will not remain sloping if the zeppelín is moved by the air.



RADIO EMITTER, RECEPTOR AND TFT SCREEN:

-Emitter of 4 channels radio you will control the pan, tilt, shooting and zoom (optional).

-Tft screen of 5,6 inch will allow you to know what the camera is "seeing" and so you will manage to choose the perfect frame for your photos.

- We rise in our equipments issuers Futaba, world leader in systems of radio control. Inside the series Futaba, we use high transmitters of range that modulate the sign of radio in PCM (Modulation for Codified Impulses) and recipients of double conversion; of this one way OUR EQUIPMENTS ARE IMMUNE TO THE INTERFERENCES.

- Publi-zeppelines offers 2 years of guarantee and a complete after-sales service. We rely on, in addition, technical service of repairs.

- All our clients rely an integral free advice on the topics related to the aerial photography with zeppelins and all the particularities of the same ones.



RADIO EMITTER AND HIGH LINE GLASES WITH RECEIVER INTEGRATED: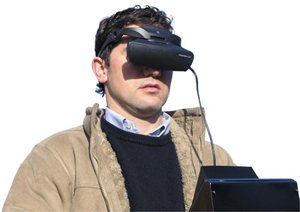 - Emitter FUTABA PCM of 4 channels
- Receiver
- Glases of ultimate generation with receiver integrated



METAL-CLAD SUITCASE: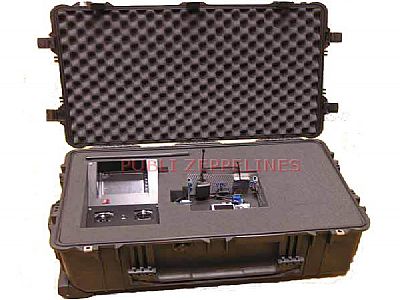 Metal-clad suitcase guaranteed by the manufacturer for life that has the following characteristics:

. Rugged, waterproof and dust resistant to chemicals and corrosion. Complete protection for your computer. Made of a copolymer ultraresistant structural impacts, which makes it an extremely rugged and durable product. The unique sealing ring neoprene 6.4 mm and closures ABS guarantee a perfect seal. Includes a purge valve to equalize the pressure quickly when they vary. It comes equipped with wheeled transport hard rubber 5 cm, a mango extensible and handles multiple clamping folding. His team will suit their high-density foam or padded dividers, which will endeavour to subject and total protection against impact, vibration or shock.

. Fleet in salt water with a load of 82 kg.

. This bag has a code of OTAN and has passed the test MIL C-4150J (military standard), IP-67 (Ingress Protection) and ATA (Air Transport Association). Guarantee unconditional ... Forever.